Largest Portable Pitching Mound Selection
We offer the top selections of Portable Pitching Mounds and Softball Mats. We have Pitching Mounds for all ages from Little League to Professional!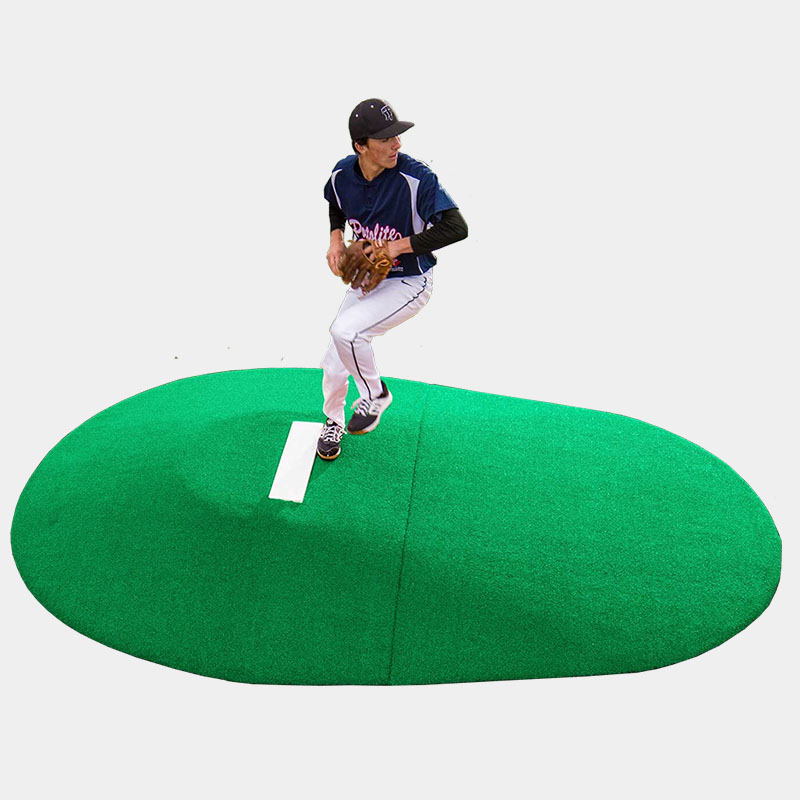 Why Portable Pitching Mounds?
PortablePitchingMounds.com is the one and only site solely dedicated to selling portable pitching mounds. We carry the largest selection of portable pitching mounds, which gives you plenty of quality options. In business for over 10 years, we know the products we sell like the back of our hands.
Before starting our family business, we were a baseball family. Our whole family played baseball, with dad as our coach. As such, it was only fitting for us to get into the baseball industry as it is our love and passion. We have firsthand experience with the pitching mound manufacturers that we carry, which uniquely enables us to guide you towards the pitching mound that is perfect for your league, school, or university.
Whether you are looking for a game pitching mound or a practice pitching mound, our goal is to make it easy as possible for our customers to find the product most suitable to their needs at the best price possible. We work closely with all the manufacturers that we carry.
While we offer free shipping on all orders, it is important for us to find affordable shipping companies to work with. Better shipping rates allows us to pass the savings along to you, our customer. Our close relationship with manufacturers and shipping companies allows us to offer the best pricing. We do not charge any hidden fees and offer free shipping on all orders.  
Our Trusted Pitching Mound Brands
We pick the very best so you can be assured of the quality. There are no compromises when it comes to materials, ease of wear, and durability.
Located in Minnesota, Portolite is family-owned and operated business. The founder of Portolite was not happy with the selection of portable pitching mounds available at the time. The options available were bulky, heavy, and scratched-up gym floors. He set out to develop a better portable mound. Since developing their first mound in 1989, Portolite has perfected their mounds to be lightweight, durable, and easy to store.
Portolite considers their mounds as hybrids, using light fiberglass sheeting and a foam core. Fiberglass pitching mounds are known for their durability. This combination of materials allows the mounds to be lightweight, while also having the durability to last for many seasons. There is a good reason why Portolite offers a 10-year warranty on their pitching mounds.
Portolite has a variety of practice and game pitching mounds in their selection. They recently introduced several 2-Piece game mound options in a 6", 8", and 10" height. The 2-Piece options are a huge hit with tournament and league directors, as they make it easy to move and store the mounds. Portolite Pitching Mounds combination of durability and portability makes them a favorite amongst coaches and tournament directors.
Pitch Pro, otherwise known as Aeroform Athletics, has been in business since 1985. Their primary products are pitching mounds, but they also manufacture Field Armour and other cool products. All Pitch Pro Pitching Mounds are built with a fiberglass core shell that gives them durability.
Not only does each Pitch Pro Mound come with a fiberglass core shell, but each mound comes with multiple fiberglass support bars that go through the bottom of each mound. These support bars provide the mounds an extra layer of durability that is rare in the pitching mound industry.
Pitch Pro is known for their long-lasting game mounds; however, they also offer quality practice mounds. You may have even seen the Pitch Pro practice mound during the MLB Home Run Derby! Pitch Pro Pro manufactures their lineup of pitching mounds in their warehouse in Kansas City, Missouri.
Proper Pitch designs and manufactures their portable pitching mounds, home plate mats, and other baseball products from their warehouse located in North Carolina. Each mound is built with the end-user in mind.
Proper Pitch creates a mound that is not only durable, but also lightweight. The lightweight design of Proper Pitch Pitching Mounds makes it easy to move the mound on and off the field. Their mounds come equipped with a shock-absorbing landing area. The landing area adds to the durability of the pitching mound and reduces stress on the pitcher's ligaments when they complete their stride.
Proper Pitch offers multiple 6", 8", and 10" options. By designing and manufacturing their products themselves, they offer outstanding pricing on their pitching mounds. Their game pitching mounds are hundreds of dollars less than their competitors. If you need a high-quality pitching mound on a budget, look no further than Proper Pitch!
ProMounds is another great  company that we have a close working relationship with. They have been in business since 2001. They manufacture and ship pitching mounds from their warehouse in Massachusetts. ProMounds Pitching Mounds focuses on 6" game pitching mounds, practice mounds, and softball mats.
They make their mounds with a high-density foam and cover them with their patented ProMounds Rubber Armor Technology (PRAT for short). ProMounds' PRAT gives their mounds the durability they need to last for many seasons. The 5070 model is a lightweight, inexpensive model that has become a staple for many little leagues across the country. If you are looking for a bigger mound, the ProMounds Major League might be right for you!

We Accept Purchase Orders
Portable Pitching Mounds gladly accepts purchase orders on all our pitching mounds. We have worked with over 10,000 schools and little leagues across the country!

Our customer support is second to none – We know Portable Pitchers Mounds better than anyone in the industry. Give us a call today or take a look at our Pitching Mound FAQ!

With an installed 128-bit SSL security that has advanced encryption, you are guaranteed to have a safe purchase.
Choosing The Right Portable Pitching Mound Height
It is vital to know the targeted age group when purchasing a pitching mound. There are four different pitching mound heights available. Below is a breakdown of the different available heights and for which age range each is best suited.
4 Inch Portable Pitching Mounds
A 4" pitching mound is strictly for practice only. When it comes to game usage, the 4" height does not meet the standard height requirements for little league. We offer a few 4" high mounds including the Portolite Economy Mound, the Pitch Pro 334, and the ProMounds Training Mound. These mounds are perfect for use in the backyard. It will allow pitchers to practice throwing off a raised surface, rather than throwing from the flat ground. 4" mounds are also widely used as bullpen mounds for little leagues. The practice mounds are perfect for pitchers warming up before entering the game.
6 Inch Portable Pitching Mounds
6" high pitching mounds are regulation height for little leagues. In fact, 6″ high mounds are known as Little League Pitching Mounds. All the manufacturers that we carry have multiple variations of 6" high mounds. The two main differences between most 6-inch variations are whether the pitcher will be striding off the mound, or landing on the pitching mound itself when completing the pitch. Both options are regulation size for most littles. It is a personal preference for the leagues that will be purchasing the baseball pitching mound.
Pitch Pro offers their 465 as a stride off mound and the 486 and 796 will be considered "full length".
Portolite has the 6" Stride-off, the 6" Full Length, and the 6" Full Length 2-Piece Pitching Mound.
Proper Pitch's stride-off option is the Junior Pro Portable Mound. Their full-length options are the Prep Mound, the Game Junior, and the Tapered Game Junior.
ProMound's stride-off options are the Bronco and Minor League Pitching Mound. For the fun length option, they offer the Major League pitching mounds.
As you get into the more expensive 6" models you will see that the mounds are long enough for the pitchers to complete their stride and land on the front of the pitching mound. The width is also an important factor to consider, especially when your league allows for pick-off moves to first and third base. Wider mounds will provide a more gradual slope for pitchers when throwing to first or third. Every 6″ pitching mound you find on our site is a game pitching mound, which means they are approved for little league game use.
8 Inch Portable Pitching Mounds
8" pitching mounds are a relatively new product that have become popular over the past decade. Before the 8" mound, pitchers would have to adjust from a 6" high mound to a 10" high mound. These mounds are used on 50/70 fields. 50/70 fields allow for an easier adjustment instead of moving directly to a full sized, regulation field after playing on the small little league fields. Proper Pitch, Portolite, and Pitch Pro all have their own variations of the 8" pitching mound. Each has something unique to offer.
10 Inch Portable Pitching Mounds
10" high mounds are regulation height for middle schools, high schools, colleges, universities, and professional leagues. Proper Pitch, Portolite, and Pitch Pro each offer their own 10" game mounds. Proper Pitch has two different 10" mounds to choose from, including the 10" Standard Game Mound and the 10" Tapered Game Mound. Portolite offers their 10" Full Length Game Mound in a 2-Piece option that makes it easy for coaches to move and store the mound. Pitch Pro offers the 8121 model and the 1810 model, which are used by many colleges and professional teams. Need more information? Check out this article about the 10 Best Portable Pitching Mound options.
Top Reasons to Buy a Pitching Mound
Has your league been using a dirt pitching mound? If so, then you know how much maintenance a dirt mound requires. Not only is it a lot of work at the beginning of the season after a harsh winter, but the maintenance lingers all season before/after every game. Portable pitching mounds provide a plug and play option. As soon as the pitching mound has the right placement on the field, you are ready to play ball!
When you construct a dirt mound you must make sure the dimensions are regulation size. You will also have to make sure the slope of the baseball pitching mound is ideal for game use. This can be a difficult task! Luckily, with portable pitching mounds, the manufacturers do all the hard work for you. Before purchasing, you will see the precise dimensions of each portable mound.
Adding to the fact that portable pitching mounds are low maintenance, they are also durable. Many of the mounds we carry are made with a fiberglass core, a reinforced rubber core, or a combination of the two. The core of the mounds are built to last years and in some cases a decade or longer. In fact, Pitch Pro and Portolite both offer a 10-year warranty on their selection of mounds.
4. Practice During Winter Months
It is in the name that portable pitching mounds are in fact portable. Whether you purchase a game mound or a practice mound, you can move the mound inside the gym or your facility for the winter months. This will allow your kid or team to get the practice in he/she needs. While the other players will be playing video games, you will be improving your pitching skills!  Check out this article for other advantages and disadvantages of a portable pitching mound. If you can't use your pitching mound we have info on how to store your mound when you're not using it.