Pitch Pro 465 Pitching Mound
The Pitch Pro 465 Pitching Mound is what is known as a stride-off pitching mound. With a stride-off pitching mound, the pitcher finishes their stride on the dirt in front of the mound. It is widely used by little leagues across the country for both games and practices.
Pitch Pro built the 465 to have a number of greate features that sets the mound apart from the competition. It has a combination of durability and portability that make it favorite for little league presidents and tournament directors.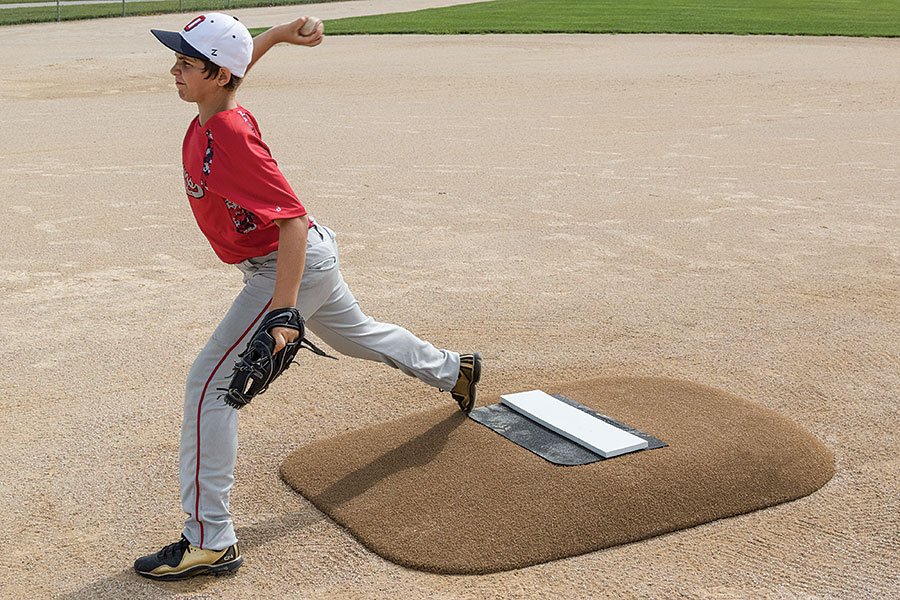 Who uses the 465 Pitching Mound?
The mound is regulation height for the following leagues:
Little League – Minor and Major divisions
Babe Ruth's Cal Ripken – Rookie, Minor, and Major/60 divisions
Dixie League – AA, AAA, and Major divisions
Pony League – Bronco division
Replacement Launch Pad – Like every other Pitch Pro game mound, the 465 comes with a launch pad right in front of the pitching rubber. 
Lightweight – The Pitch Pro 465 Pitching Mound is one of the lightest 6″ game mounds available. For this reason, it is a favorite amongst tournament directors and little league presidents. Easily move the mound from field to field with two adults.
Regulation Dimensions – The mound is one of the smaller game mounds we offer, however, it is regulation size for little leagues. It meets the 6″ high requirement for game use. 
Should I Buy the 465 or 486?
As you can see from the chart below, the 486 Pitching Mound is the next size up to the 465. With the height and width the same for both mounds, the only difference between the two are the length and weight. 
Prefer the pitcher land on the pitching mound rather than area in front of the mound? Then the 486 is right for you! Do not care about the landing area and prefer a lightweight mound? Then save the extra money and go with the 465!
Pitch Pro 465 Pitching Mound Video