Pitch Pro 508 Practice Pitching Mound
The Pitch Pro 508 Practice Pitching Mound is the next step up from the 504 model. It has all the same features as the 508, however, it is quite a bit longer. The mound measures 96″ long, which gives pitchers plenty of room to perform their pitch.
The 508 Pitching Mound is perfect for middle school and high school pitchers. Pitchers will get a real game-like feel by using the mound, rather than pitching from the flat ground.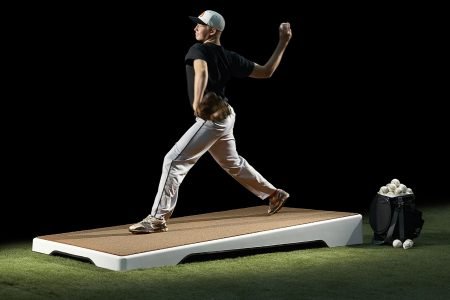 High-Tech composite construction. Provides extremely rigid surface.
Small footprint on turf. Will not leave large marks on field.
Tapered sides. Allows air flow under mound to prevent grass from wilting.
Marine-grade gel coats. Completely water proof and UV resistant.
Astroturf® game turf. Highest-quality turf available.
Versatile. Good for indoor or outdoor applications.
Optional Wheel Kit. Wide turf tires will not rut playing surface.
All components are completely manufactured in the USA.
Fast delivery. Products are stocked and orders ship within days, not weeks.
10-year warranty for indoor and outdoor use.