Portolite Economy Youth Pitching Mound
The Portolite Economy Youth Pitching Mound is the smallest mound that Portolite offers. This is a 4 inch pitching mound and only weighs 30 pounds! It is great for practicing in the backyard or taking it up to the field. The Economy mound will easily fit into any car making it easy to use anywhere, anytime.
Portolite designed the Economy mound so that players can start their pitch on the mound and comfortably land on the ground in front of the mound. They designed the mound to have a gentle slope on all four sides which will allow players to make plays and practice pick-off moves without disruption.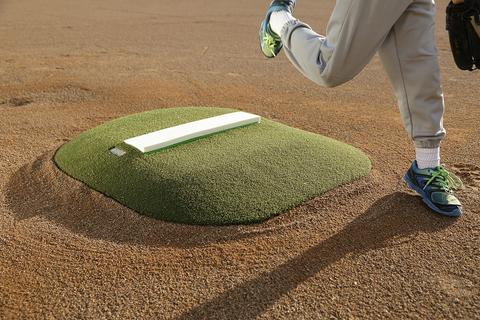 Portolite's pitchers mounds are engineered with a full body high performance poly protected core. They also feature fiberglass reinforcements to ensure a solid no bounce mound. Their revolutionary multi-material design is what allows the Youth Economy mound to be so durable yet portable.
The Economy Portable Pitching Mound also has a built in hidden wear pad in front of the rubber to keep your mound in the best shape. They also come standard with their very own pitching rubber that is made to last 10 times longer than industry standards.
Highest quality Nylon Astroturf – Rest assured, Portolite only uses the highest quality Astroturf on all of their mounds. They pride themselves on building one of the most durable and long last mounds on the market. Their commercial grade Astroturf is available in both Green and Clay!
Hidden Wear Pad – As mentioned above, all Portolite Mounds come with a hidden wear pad located directly in front of the rubber. This with ensure that their mounds will last season after season without showing signs of wear and tear.
Premium Fiberglass and Poly material Blend – Their unique use of materials is one of the staples of Portolites Mounds. They have designed a mound that will be comfortable for the pitcher but won't take 4-5 people to take off the field.
Smooth "No Lip" Tapered Edge – The tapered design will flow smoothly to the ground to give this mound the closest possible feel to a really pitchers mound. With virtually no lip on all sides of the mound, baseballs with react normally if they this mound making it much easier for all prayers to make plays during a game.
Limited 10 Year Warranty – Portolite takes great pride in making sure that all of their customers are satisfied with their mound purchases. For this reason, Portolite backs all of their mound with a very strong 10 year warranty.
Portolite Economy Pitching Mound Video