Pitch Pro 8121 Pitching Mound
A full 10" mound designed for the big boys. The Pitch Pro 8121 Pitching Mound is the most rigid and portable 10" mound on the market. As with all Pitch Pro mounds, the mound support structure is designed to prevent surface deflection and dead spots. The lack of these characteristics are the main culprits for a mound breaking down and becoming weak and flimsy.
This is why we provide a ten-year warranty on the mound core, to ensure that these mounds are worth every penny and longevity is guaranteed. Our 8121 stands apart from the competition… as should your field.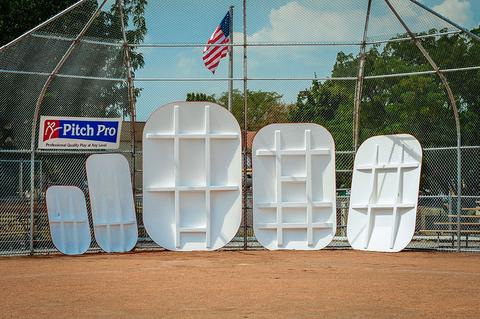 Who uses the 8121 Pitching Mound?
Middle Schools
High Schools
Colleges/Universities
The 8121 is made out of a heavy duty fiberglass core shell. The fiberglass shell is made to withstand the impact from kids of all ages and sizes pitching on the mound. This mound will also be able to withstand the elements which is important for a larger mound. During the season, you will be able to leave this mound on the field.
The launch pad is the black pad that sits in front of the rubber. Pitch Pro designed the pitchers mound launch pad because the turf right in front of the rubber usually gets the most wear and tear throughout the season.
They want to make an easy and affordable way to replace this section of the mound without having to make major repairs. The launch pad is able to be detached and replaced. They make it super easy to keep their mounds in the best shape to keep you playing.
The dimensions of the 8121 are 12′ long, 8′ wide, and 10" high. Due to the length on each side of the rubber, there is a gradual slope to the ground. This makes it easy for the pitcher to make pickoff moves and ensures the safety of players making plays near the mound. It also has a 81" stride length. This stride length allows plenty of room for the pitcher to make their full stride and still land on the mound.
Pitch Pro believes in the quality of their pitching mounds. As a result, they offer a 10-year warranty on the mound's core. They know that the fiberglass shell will easily last 10 or more years. You can expect to get plenty of mileage out of all Pitch Pro Pitching Mounds.
Pitch Pro manufactures their pitching mounds in Kansas City, Missouri! Pitch Pro inspects every pitching mound before it leaves their warehouse. You will rest easy knowing that your pitching mound is built to last.
Pitch Pro 8121 Pitching Mound Video