Portolite 6" Full Length Pitching Mound
The Portolite 6″ Full Length Pitching Mound is perfect for multi-use fields. It is both sturdy and mobile. The mound weighs only 120 pounds, as a result, two adults can easily transport the mound.
Portolite makes their mounds light by using a full body, high-performance, poly-protected core with fiberglass reinforcements for increased support. The 6-inch portable pitching mound makes it easy for recreational leagues and tournaments to prepare their multi-purpose fields for game use. Coaches and tournament directors will be pleased by the combination of portability and durability.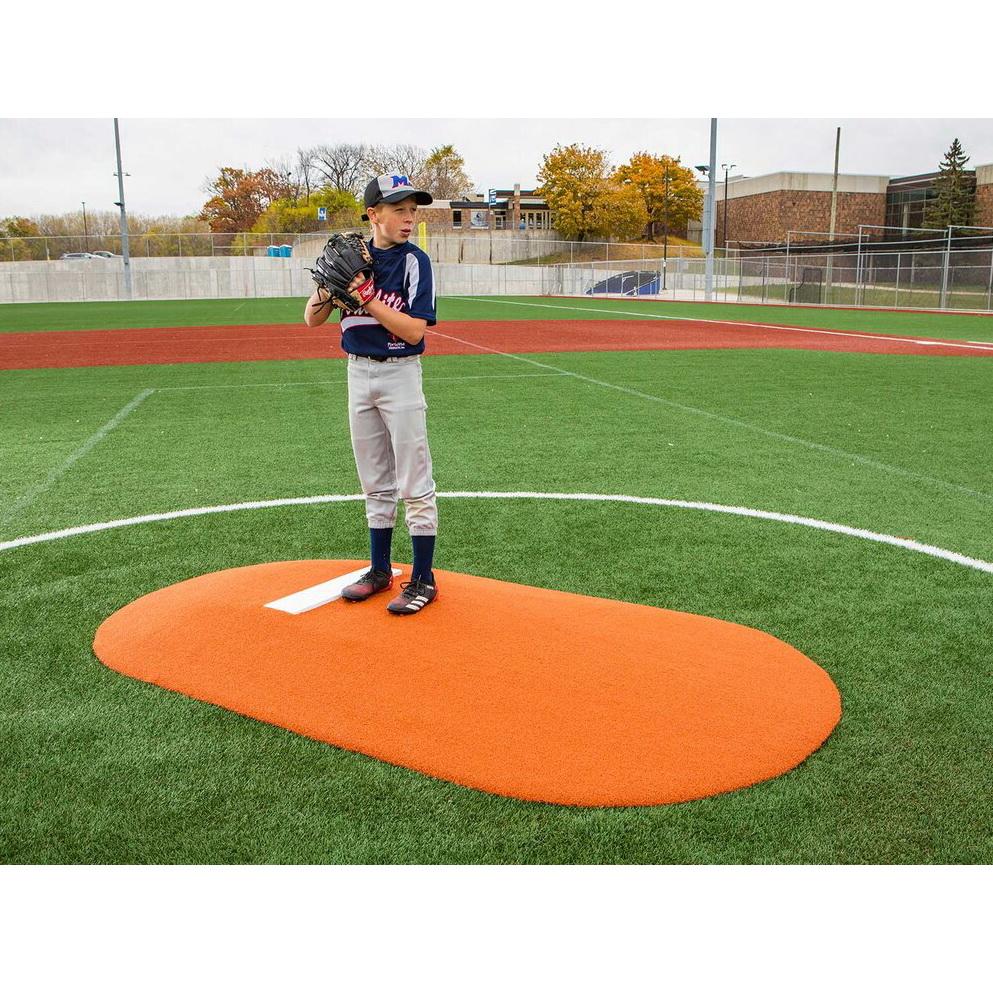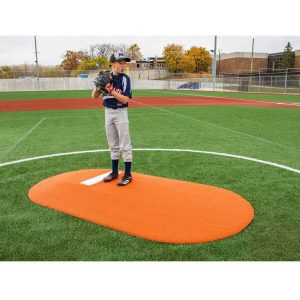 Portolite builds their pitching mounds with the highest-grade nylon Astroturf, therefore, you can be assured that the mounds are built to last. With a gentle slope and a sturdy landing area, pitchers will feel comfortable when landing and getting into a position to field a ground ball. The 6 Inch Pitcher's Mound will give little leaguers the closest possible feel to being on a real dirt mound.
About Portolite Pitching Mounds
All Portolite Pitching Mounds feature the highest quality materials and cutting-edge design. Portolite uses a poly protected core with fiberglass reinforcements to make their mounds some the most durable on the market. With the unique infusion of materials, they have engineered these mounds to be much lighter and easier to move than a full fiberglass core mound. Portolite covers their mounds with Astroturf. You have the option to choose between a green, clay, or tan color turf.
Portolite constructs their pitching mounds with a poly protected, resilient core. This core provides solid performance and durability. The core has fiberglass reinforcements which further strengthens the core of the mound. Fiberglass reinforcements prevent a "bounce", while cushioning the mound to reduce stress on the pitcher's knees and ankles.
The Portolite 6″ Full Length Pitching Mound comes with heavy-duty Astroturf. The turf holds up against normal wear and tear. Portolite advises againt using metal cleats on their pitching mounds. Metal cleats will "chew up" the turf, dramatically decreasing its lifespan. However, rubber cleats are highly recommended and will work perfectly with the turf.
Portolite constructs their pitching mounds to be lightweight and portable without sacrificing any strength to the core of the mound. The 6" Full Length Mound is only 120 pounds. This makes it easy to move by two people. If you are planning on moving the mound often, we highly recommend a lightweight pitching mound.
The hidden wear pad is located right in front of the pitching rubber. This area has the most wear and tear since the pitcher is starting his stride from this location. The wear pad helps prevent the wear and tear, greatly prolonging the durability of the turf.
The Portolite 6" Full Length Mound is designed with tapered edges. This allows for a gradual slope. There are "no-lips" on this mound which ensures the players' safety and allows for easy pick off moves and making plays off of the mound.
Strengthened Pitching Rubber
The strengthened rubber lasts 10 times longer than the traditional pitching rubbers. You can easily replace the pitching rubber, however, Portolite strives for longevity on all parts of their pitching mounds.
Portolite has confidence that their mounds will hold up to heavy usage. As a result, they back the core of their mounds with a 10-year warranty. Many customers find that their Portolite Pitching Mound holds up long past the 10-year mark.
Portolite manufactures their pitching mounds in Minnesota. Not only are their mounds built in Minnesota, but they also use parts and supplies from other U.S. manufacturers to complete their mounds. Portolite prides itself on being a USA manufacturer!
Portolite 6" Full Length Pitching Mound Video